December 31st, 2018
State of the Market
The collector car market of 2018 has ended up looking quite similar to that of 2017. Generally speaking, market conditions have somewhat favored buyers, who are typically rewarded when they are selective and patient. Outstanding and unrepeatable cars (which may be differentiated by their originality, colors, mileage, history, documentation) continue to be exceptions to the general market trend, and they consistently draw multiple offers, strong prices, and quick sales. The cars that comprise the remainder of the market continue to change hands at market-correct prices, which are in many cases appreciably less than they were at their peak, but still well above where they were ten years ago.

Consequently, there are currently many opportunities for astute buyers, particularly in the $200,000 plus segment of the vintage market (prior to 1975). In 2018, the most activity we observed is from buyers who are seeking something to use: a fun weekend car or something suitable for rallies or other events. Therefore, most buyers make decisions on the basis of usefulness and enjoyment rather than with speculation in mind, and are consequently interested in buying cars whose prices are sensible enough to allow them to be used. The upper end of the market is therefore more rational and less superheated than it was say four or five years ago, with the notable exception of the very top end of the market, where extremely significant and valuable cars continue to make headlines with record-breaking sales.

The other area we are seeing healthy market activity is for comparatively modern cars spanning the 80s to the early 2000s. With the increasing pervasiveness of driver aids, turbochargers, and computers in today's cars, plus increasing marginalization of the manual transmission, a new generation of enthusiasts and collectors is drawn to the cars from this period that epitomize the end of an era for sports cars. Whether it's a Honda S2000, E36/E46 M3, or manual transmission Aston Martin V12 Vantage or Ferrari 575, today's market appreciates these cars as the ultimate expressions of a sports car formula that dates back to the dawn of the automobile. Impact bumper 911s, together with 964s and 993s, remain in strong demand, particularly special variants, while the RADwood movement, a series of events specifically representing the cars and culture 80s and 90s, is drawing huge numbers of young enthusiasts which gives us a lot of faith in the future of the vintage car hobby.

This is not to say that the traditional bread and butter of the collector car market, European sports cars for the 1950s-70s, is floundering, and indeed this remains the single biggest sector of our sales. 12-cylinder Ferraris of this era remain in demand when properly priced, as do 300SLs, E-Types, 356s, long-hood 911s, and twin-cam four-cylinder Alfa Romeos. Cars from this period remain the holy grail of desirability even for younger enthusiasts, and in much the same way that truly seminal prewar cars transcend the generations, great cars of the golden age of the sports car (approximately 1950-75) are doing the same with the next generation of car enthusiasts.

As ever, we counsel our customers to buy what makes them happy. Vintage cars have always been best when used and enjoyed, and there continues to be an ever-growing range of shows and events at which to use these cars, whether it's the casual Cars & Coffee or the California Mille. Since today's market conditions allow buyers to be selective, sales of cars from our inventory always require first-rate marketing and often require careful nurturing to keep the deals on track. Our ability to handle both of these tasks, together with our deep network of international contacts built up during more than four decades in the business and our global reputation for trustworthiness and transparency, position us ideally to help sell your special interest car.

Thank you for entrusting your prized cars to us and we wish you the very best in 2019!

Fantasy Junction 2018 Highlights
On the Fantasy Junction team front, 2018 was noteworthy for several reasons. Bruce Trenery, Spencer Trenery, and Jeff Read all raced at the Sports Car Club of America National Championship Runoffs at Sonoma in October, the capstone event of the year's racing season. Spencer won the GT2 class (click here to watch the race), while Bruce finished 6th in STU (Super Touring), and Jeff Read finished 5th in FE (Formula Enterprise).

Meanwhile, back at the office, Ashley Manibay completed her first full year as Fantasy Junction's Office Manager, running the office with a level of organization, accountability, and timeliness the likes of which we have never seen. Also completing a first year as a full time team member after 15 years in part time roles was Derek Tam-Scott, while Robin Denny joined the team in August.

Below is a selection of noteworthy sales from 2018. We chose to highlight these cars because of their significance, stories, owners, or simply because we found them particularly compelling.
1931 Bentley 4 Litre Tourer by Vanden Plas, s/n VF4019
A magnificently preserved 4-owner from new car, this 4 Litre was described in 2018 by Bentley historian Clare Hay as "About the most original and correct vintage Bentley that I have ever seen." Its charms were abundantly obvious to its new owner, an enthusiast of serious Jaguar sports racing cars who expanded his repertoire into the prewar years with this significant W.O. era Bentley.
This was one of those unrepeatable cars that dripped with coolness. With 31,000 miles and known history from new, this car was purchased for its original owner by her husband after they saw the three factory Bristol entries which placed 1-2-3 in class at Le Mans in 1954. Still retaining its original paint and interior, this car has been sold by Fantasy Junction at least four times over the decades. This time, it sold almost instantly at a strong figure after fierce competition by several interested buyers.
1969 Citroen DS21 Pallas, s/n 4631806
This superb Citromatic-equipped Pallas wowed us with its singularly Citroen specification and exceptional condition. Delivered new by the then-new Citroen showroom in Beverly Hills, this car was used by Citroen USA director Rene France early in its life. It set our inbox afire with interest and we sold it quickly to our longtime customer and friend
Mark Hyman
. It is one of three DS we sold in 2018, along with
a Chapron convertible
and a 5-speed injected DS23 Pallas.
1949 Ferrari 166 Inter by Touring, s/n 015S
The eighth Ferrari road car built, 015S is an irreplaceable piece of Ferrari history. Clothed with Superleggera coachwork by Touring, it was shown at Geneva and Villa d'Este in 1949. We sold it to a customer in Europe who had previously bought a Maserati A6GCS and Siata 208S from us.
1964 Ferrari 250 GT Lusso, s/n 5417
Beautifully presented in dark blue with black interior, 5417 found a new home through a complex international deal we assembled in collaboration with
Bell Classics
and Edward Lovett of
International Collectables
.
1966 Ferrari 275 GTB Alloy, s/n 8117
This very rare alloy bodied 6-carb long nose 275 was sold new in Italy to a 33 year old soccer player finished in the elegant color combination it still wears today. Restored to the highest standards some years ago and still very crisp, this Classiche-certified car now resides with a young US-based collector who continues to evolve his collection to ever higher levels.
1967 Ferrari 275 GTB/4, s/n 10123
One of the gold standards of the collector car world, the four-cam 275 GTB is among the most iconic Ferrari road cars of all time. This comprehensively documented example came to us fresh out of forty years of ownership with a passionate owner in the Midwest. The car is now with a prolific European buyer who is having the car thoroughly restored and it is one of two 4-cams he purchased from us in 2018, together with s/n 10365.
1967 Ferrari 330 GTS, s/n 10375
One of 99 examples built, this 330 GTS was sold new in California and spent almost all of its life on the West Coast. A strong running and beautifully presented example with Classiche certification, this GTS now resides with a discerning collector in Northern Europe who enlisted Danish specialist
Peter Iverson
to help procure this exceptional car.
1974 Ferrari 246 GTS Dino, s/n 8512
In many ways the holy grail of the Dino hierarchy, this exceptional car had it all. One of 125 "flares and chairs" cars built, it was the second to last 246 made and had covered just 27,000 miles from new, retaining its exceptional original paint and interior along the way. Part of Bruce Trenery's personal collection for over ten years, 8512 is actually one of
two pino verde flares and chairs Dinos
we sold in 2018.
1983 Ferrari 512 BBi, s/n 47417
This Boxer was very striking in its unusual white livery and was a well-sorted high-quality car. We sold it to its young and enthusiastic new owner, who has a penchant for mid-century design and whose eccentric collection includes a few other Ferraris of this era and superb low mileage Audi 5000 wagon.
1955 Lancia Aurelia B24 Spider America, s/n B24-1027
The B24 remains in our opinion one of the all time great classic cars, and this lovely Spider America was presented in a very desirable configuration with Borrani wire wheels and Nardi twin carb setup. Incredibly sensitive to being properly set up, this example ran and drove unusually well and has now returned to Europe.
1955 Mercedes-Benz 300SL Gullwing, s/n 5500139
Equipped with Rudge wheels, luggage, and rally timing equipment, this car was set up to use and its enthusiastic owner was not shy about driving it. He used it on both the Mille Mille Storico in Italy and the California Mille before consigning it for sale with us. We ultimately placed it with 300SL specialist
HK Engineering
in Germany, whose famously exacting technicians will bring the car to the next level.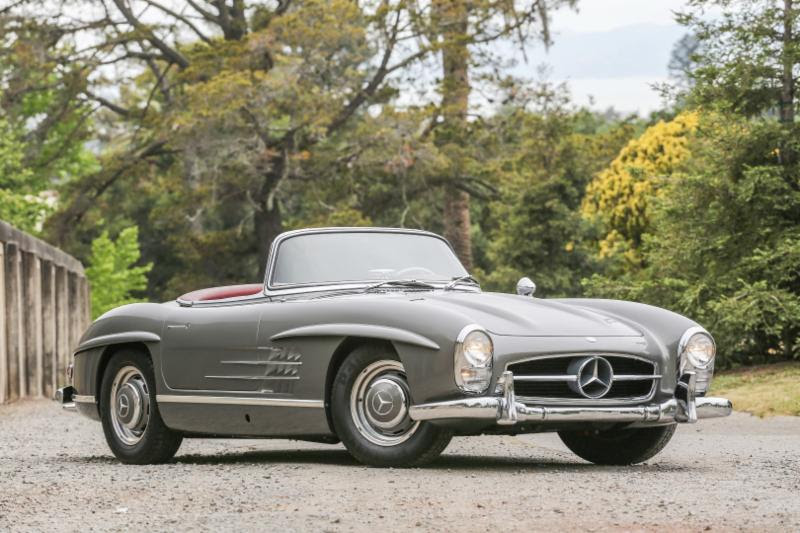 1957 Mercedes-Benz 300SL Roadster, s/n 7500608
A longtime California car still wearing its black plates, this stunning Roadster was a beautifully restored example which we sold to the fast-moving team at
Gullwing Motorcars
.
2005 Mercedes-Benz SLR McLaren, VIN 000361
A nearly unmarked 4800 mile car with stunning red leather interior, this SLR represents mind-bending performance (0-60 in 3.3 seconds) and exceptional value for a low production carbon fiber supercar built in conjunction with McLaren. We feel these are cars to watch in the coming years.
1956 Porsche 356A Carrera, s/n 55618
A beautifully rendered and daring Outlaw style Carrera, this example had exceptional attention to detail. The centerpiece of the car was the legendary Type 547 twin four-cam racing motor, whose specific output remains remarkable even today. This car is now part of an impressive Hong Kong-based collection.
2008 Porsche GT2, VIN 96142
As though the 530hp, 204mph top speed, and 3.3 second 0-60 second figures of the stock GT2 were insufficient, this car was upgraded to more than 600hp with new engine management, turbochargers, and other upgrades to make it an insane rocketship in keeping with the spicy temperament of its 930 forebear. We placed this car back with its original owner, who simply couldn't resist this car's intoxicating speed.