December 21st, 2010
During the 2010 Season, we enjoyed several races in all sorts of cars.

Spencer started the year racing a Pontiac GTO-R at the Rolex 24 Hours of Daytona and finished the grueling event after much drama with mechanical and accident problems

In March, Bruce ran the double National with our Acura RSX Koni Challenge car and scored a 2nd and a 3rd at the Thunderhill race.

In May, Bruce and Spencer went off to the Nurburgring for another series of races, with Spencer running a Honda Civic R in the 3hr race on Thursday to a 2nd place, while Bruce ran a Honda Accord R with our friend Han Keutmann and finished in 6th place in class.

On Friday Spencer co-drove a Porsche RSR in the Youngtimer 500 kilometer race with Dirk S_____ and finished 4th in class and 8th OA in a race of about 180 entrants.

In the 24 hour feature race, Spencer drove an Audi turbo diesel and was leading the class near midnight with a five minute margin when he came upon an accident in progress going down the "foxpipe" in 6th gear. After the Audi guys replaced three complete corners, and the front end, the car was back on the track at 9am and due to attrition in the class, Spencer scored a 3rd in Class.

Bruce drove a Civic R and after two of his co-drivers had minor accidents in the night, the car was repaired and finished 10th in class after running as high as 3rd in class early on.

Bruce was off to LeMans in July to run the LeMans Classic 24hr with Graber Sport Garage from Bern, Switzerland, sharing a 1937 Delahaye 135S with team owner Eric Traber, and his son Christian Traber. They worked themselves up to 5th in class during the last race, and were scored something like 12th OA in the prewar class.

For labor day, Bruce and Spencer ran a series of SCCA regional races at Sears Point (Infineon) with Spencer winning 1st in class and 1st OA in GTR in a borrowed Acura Integra, and Bruce winning both of the STU races in our Acura RSX.

In early October, Bruce ran our Lola 596C in a couple of SCCA Vintage Races at Thunderhill finishing 2nd in both.

In October, it was time for the 12 hours of the Cascades and Bruce and Spencer together with Krause Racing won the race overall in a Porsche 968 turbo, when the leading BMW Grand Am GT car expired about seven hours into the event.

The next day, Bruce and Spencer drove the Acura RSX at the SCCA Illgen Classic at Laguna Seca, where Spencer actually lead overall for about twenty laps in the rain, and we ended up winning the class and finishing 4th overall after a tangle with the tire wall just before Spencer turned the car over to Bruce.

December, brought the 25 Hours of Thunderhill with NASA, and we ran the race for the eighth time, again in our RSX and finished fourth in O and 14th OA out of 82 starters.

We would also like to acknowledge that, Jeff Read, an employee here at Fantasy Junction, finished 2nd in the Formula E Regional Championship, and also finished 3rd place in the Formula Enterprise West Coast Championship for the 2010 season. Congratulations Jeff!

It has been a pretty good year, a little rough in places, but generally very satisfying and a lot of fun.

Bruce
In Previous Fantasy Junction News:
Fantasy Junction collects class win at Shell Historic Challenge with Maserati A6GCS s/n 2053
Photo courtesy of Dennis Gray: www.GrayInColor.com

After a weekend of unusual weather at Infineon raceway, Spencer Trenery driving Fantasy Junction's 1954 Maserati A6GCS emerged with a well deserved class win.

The drum brake field was well attended with some of Sports Car racing's most beautiful and historically significant racing cars ever constructed. In addition to our A6GCS, several 200SI, and 300S, and 250F Maseratis were present, along with Peter Greenfield's stunning Alfa Romeo 8C/35 Grand Prix car. Jeff Abramson's 1954 Ferrari 500 Mondial was the only Ferrari entered in the drum brake field, ironically.

The weekend started with an early Friday morning practice. Heavy rains came in frequent bouts- highly unexpected weather for late spring in Northern California. Several drivers found the conditions challenging with surprise spins occurring in turn 2, 3, 4, 8a, and 11. Initially Trenery moved quickly up through traffic turning quicker times than his competitors under wet conditions, but was ultimately forced to pit several times in an effort to diagnose a misfire which remained elusive for several more on-track sessions including Saturday's race. Completing only six of ten laps, Spencer and the Fantasy Junction team were classified as 10th while Jeff Abramson and his very well driven Ferrari 500 Mondial won the class.

Keeping in mind that our Maserati A6GCS had not actually raced since 1958, our team remained optimistic for Sunday. Italian automotive historian and talented technician John De Boer had identified the misfire as a faulty Magneti Marelli coil, and once replaced the little Maserati came to life. Having skipped the morning warm up on account of treacherous wet conditions, Trenery started last on the grid for Sunday's dry race. Moving up quickly past the pair of Maserati 200SIs driven by Nick Colona and Chuck Wegner, Spencer was in position to challenge Jeff Abramson for the class lead. After a spirited drive by both, Trenery was able to out brake the slightly heavier Mondial into turn 11 where he assumed the lead. By the end of the race Spencer was able to put just over five seconds between himself and Abramson's 500 Mondial, a testament to the capabilities of the agile A6GCS.

"The car performed well and was a pleasure to drive. The feeling of piloting such a beautiful car with important history is a wonderful opportunity! Running hard in close quarters against Jeff and his Ferrari 500 Mondial was a throw back to the pinnacle Sports Car racing during the era for these cars, and was a treat to experience", Trenery remarked after the race. "I have a huge respect for the successes the drivers of these cars were able to achieve in period, and for the efficient and balanced design of A6GCS platform."

Period achievements for A6GCSs included a 1st and 2nd in class (and 3rd overall) at the 1953 Mille Miglia, and victories at the Targa Florio, Pescara, as well as elsewhere in Italy, South America, and in the UK, in addition to several wins in the US. Spencer and Fantasy Junction have entered the Maserati A6GCS at the Monterey Historics Automobile Races in August, and hope for similar success there. Please feel free to call us with comments or questions relating to the Maserati or our racing efforts, as we are always happy to share the experiences.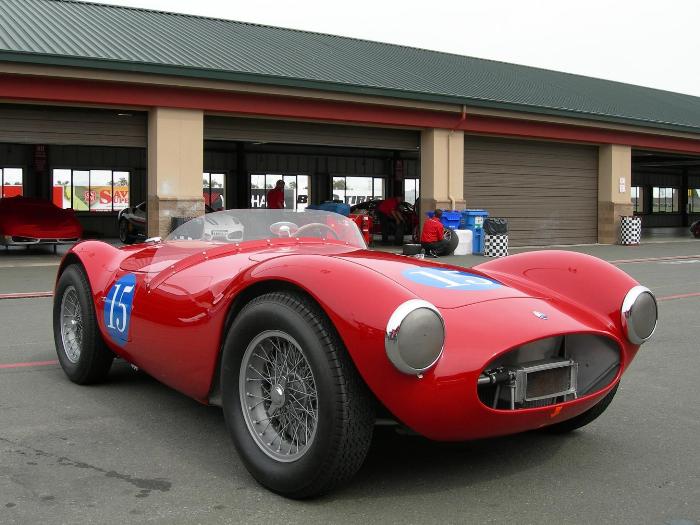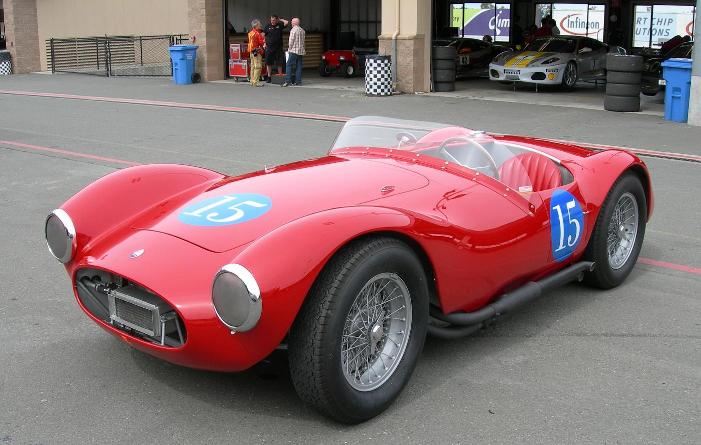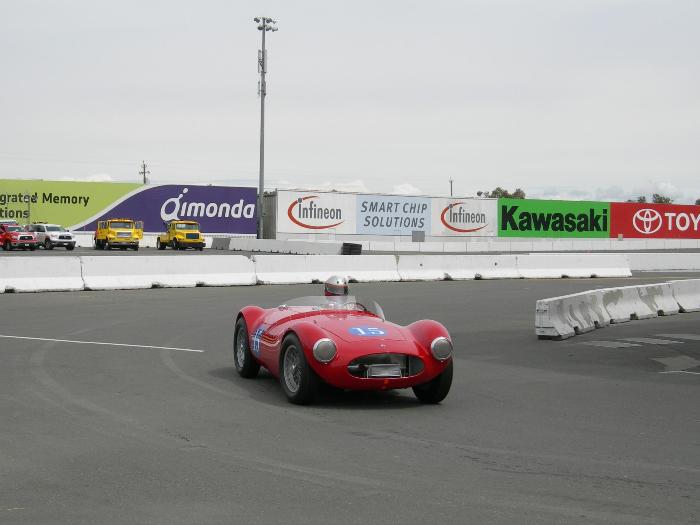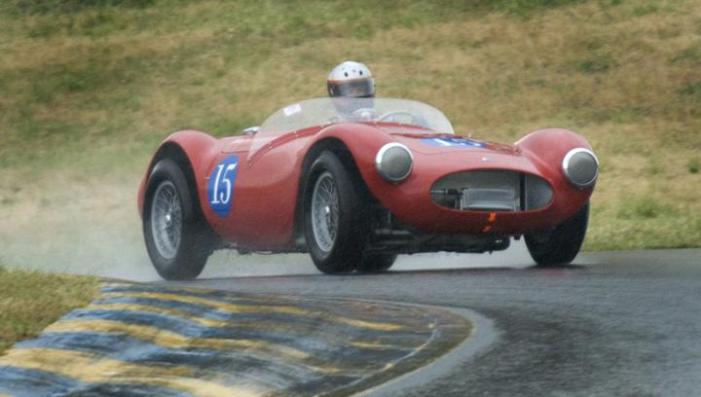 Image courtesy of Dennis Gray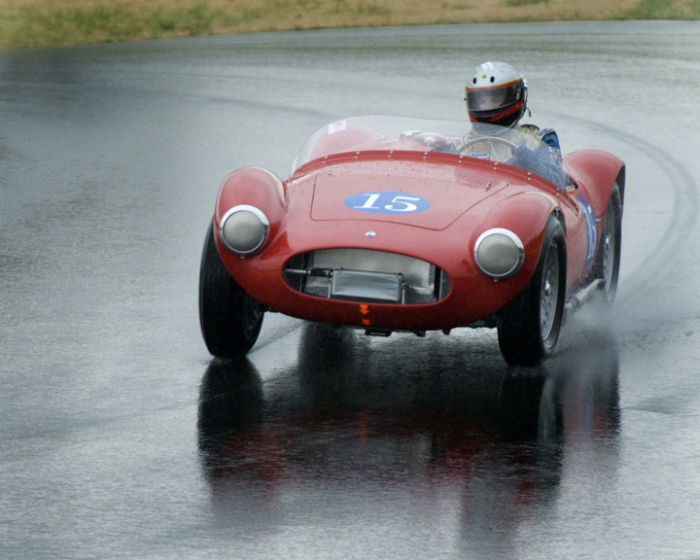 Image courtesy of Dennis Gray